How to find other MapStand Community users
The Community panel

is used to list all MapStand users who have added a work project or education AND have linked / geotagged a map feature to their profile (=MapStand community profile).
The Community panel

is filtered if you A) type something into the Search users box; B) a map feature is selected in the Info panel

or a combination of the two.
A)
Open the Community panel - new in Dec 2019 Release
Type in the name of the person you are trying to find (first name and/or last name) into the Search users box. This filters the list of users displayed.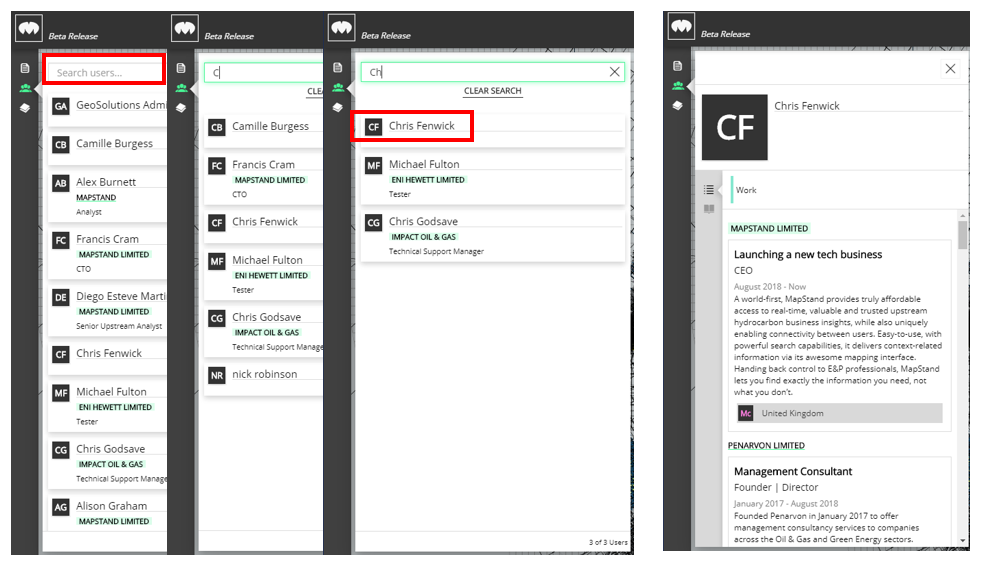 Note: Only MapStand users who have a MapStand community profile are displayed in the Community Panel
B)
If a company, country or asset is selected in the Info panel

, the Community panel

will be filtered using that feature/map object. Only users who have added that feature/map object to a work project or their education (in their profile) will be displayed in the Community panel.
Search for a map feature using the Search Bar
Select the map feature in the Info panel (this will filter the Community panel)
Select a user listed in the Community panel to display their MapStand community profile details