MapStand HUB - user interface
MapStand HUB is built using GeoNode, a geospatial content management system, a platform for the management and publication of geospatial data. It brings together mature and stable open-source software projects under a consistent and easy-to-use interface allowing non-specialized users to share data and create interactive maps.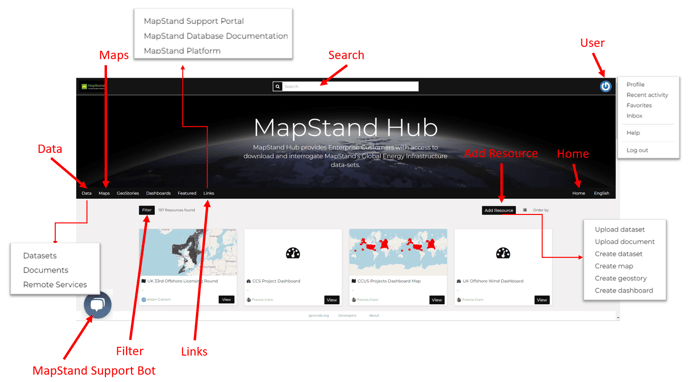 Below is a summary of the interface:
Home - click on the Home menu to return to this Home page
Data Menu - view Datasets (layers and maps) , Documents and Remote Services
Maps Menu - view Maps created by you or Maps you have permission to view
Geostories - view Geostories created by you or Geostories you have permission to view Dashboards - view Dashboards created by you or Dashboards you have permission to view Links Menu - links to MapStand Platform, MapStand Support portal and MapStand Database Documentation.
Search bar- search for layers, documents or maps
User Menu - access your profile, recent activity, favorites, inbox, (Geonode) help and log out
MapStand Support Bot - search knowledge base articles or contact the support team for assistance
Filter - filter the datasets displayed
Add Resource - Upload dataset, Upload document, Create dataset, Create map, Create geostory or create dashboard